Like history? (So do we.) Love shopping? (Who doesn't?!) You can cover both interests at this year's Solvang Danish Days Old World Artisans Marketplace, which runs both Saturday and Sunday, September 17 and 18, from 9:00 AM until closing (approximately 5:00 PM, Saturday and 4:00 PM, Sunday).
The Danish Days Old World Artisans Marketplace features demonstrations and artisanal, hand-crafted items including Scandinavian arts & crafts, papercutting, rosemaling, fabric art, jewelry, pottery, and the ever-popular Danish Sisterhood Booth. Click here for Marketplace location, and more Danish Days information.
The 2016 Old World Artisans Marketplace participants include:
Jewelry by Diane Sorensen Brown
Handcrafted Original Jewelry with silver and precious stones. The artist has a long connection with the town of Solvang, including the fact that her great-grandfather did the wooden carvings at Bethania Lutheran Church. Diane's family has been active in Danish Days for many years, and she has participated in Danish Days since she was a child. Diane's sister, Gail (Sorensen) Page, will be happy to show you her beautiful designs.
Baltic Crossroads (Alfreds Stinkuls)
Handcrafts of the Baltic region including silver pieces, carvings, handmade leather bookbinding, ceramics, jewelry and weavings. This year, Inguna Galvina will also be demonstrating ribbon weaving.
Danish Sisterhood Booth
Handmade and unique items, and delectable home-baked goods, reflecting our Danish Heritage. Proceeds fund the Danish Sisterhood Scholarship fund.
Fiber Artist (Cari Summer)
Fiber artisan who creates with a decidedly Scandinavian flair. Handmade fabric dolls, animals and baby items – creative pieces for man and beast!
Master Papercutter Rick James Marzullo (Solvang Papirklip)
Watch this artist draw with scissors as he creates hand cut works of art. "Papirklip", or papercutting, is a thriving Danish art form as well as an ancient one. Original hand-cut designs, boxes, framed artwork, mugs, notecards, patterns for adults and children, ornaments and more.
Nordic Fox Shop (Heidi Mefferd)
Handmade Scandinavian-inspired gifts and vintage items. Candles, cards, tea towels, tote bags, paper flower crowns, felt gnomes.
Earth Creations Pottery by Petti Pfau
Local ceramicist, Petti Pfau, also volunteers to run the Danish Days "Kid's Korner". Hand-thrown stoneware bowls and forms.
Rosemaling by Beth Twogood
Hand-painted Norwegian Rosemaling by a member of the California Rosemaling Association (CRA). Rosemaled woodenware including plates, bowls, boxes, planters and more.
Solvang Husflid
Hand-crafted original paintings, decorative art, ornaments, Papirklip (papercuttings), Rosemaling and more.
Sylvie Terrell
Local Norwegian artisan creating hand-crafted Art Glass Jewelry.
Viking Knit Jewelry (Gale Rugnetta)
Viking Knit Jewelry hand-made by the artist. Watch her demonstrate this handcraft! Also featuring other Scandinavian-inspired handcrafts and vintage Scandinavian items.
Monika Miehle / Timely Jewels
Northern European local artist who creates original-design, handmade jewelry.
Nordic Education (Earl Jepson)
"Demonstrator par excellence", Earl is featured in this year's Danish Days "Velkommen" Magazine. Earl is happy to talk with you about the history of Viking-age carving, and much more. View his assortment of handmade and purchased items that reflect Nordic culture from the period 600-1500.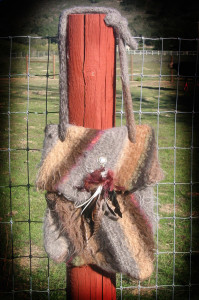 Tom and Mette Goehring
Tom and Mette Goehring are the proud owners of Ranch of the Oaks, a fiber farm located in Cebada Canyon, just outside of Lompoc, where they have been raising champion alpacas, llamas and Icelandic sheep since 2002. In 2006, they added a fiber mill and started processing all their own fiber, as well as fiber for clients from across the USA. All of this is done on their ranch solely by Tom and Mette, who are very dedicated to their craft and take great pride in their work. With 40+ years of experience, they have won awards for their yarn and fiber arts. While both are full-time fiber farmers, they still enjoy learning and educating others about their animals, fiber and fiber arts. At Danish Days, they will have fiber demonstrations, as well as yarn, knitted and woven items made from their own alpacas, llamas and sheep.